Eflex $1,000,000 Termite Warranty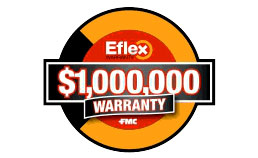 FMC Corporation is one of the world's foremost and most diversified chemical companies with leading positions in agricultural, industrial and consumer markets.
Established in 1883, FMC has been proudly providing real world solutions to companies and their customers. FMC Australasia, a fully owned subsidiary of FMC Corporation, has supplied quality pest and crop management products to home and industry since 1975.
As an innovative R&D based company, FMC has always been committed to improving the way pest control products interact with the living and built environment. FMC will always be a company that backs its products and supports its customers, hence our exclusive new Subterranean termites cause hundreds of millions of dollars' worth of damage to Australian homes and businesses every year, however thanks to your Eflex Warranty you won't have to worry about these insatiable pests eating you out of house and home.
With a warranty this good and this affordable – at only $40 dollars per year – you won't have to worry about termites for years. An annual inspection of the property, at the property owner's expense is required to maintain the warranty beyond the initial 12 month period. And in the improbable event termites do reappear, you won't be left feeling helpless, you'll have FMC to turn to. We will never fail you. It's the sort of peace of mind that money just can't buy, so ask your licensed pest manager about getting an Eflex Warranty by FMC today. It will be well worth it.
How to become eligible - http://www.eflex.net.au/